Complete computer network maintenance and IT management support for businesses throughout San Ramon, Danville, Pleasanton, Contra Costa County and Alameda County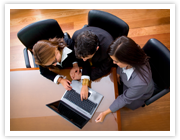 Computer Support – San Ramon, CA
Are You Sick And Tired of Technology That's Always Broken? Why can't I get IT support that doesn't cost a fortune? Have you ever said that about your network?
If the answer is yes, WebDispatch.com can give you the IT Support and IT Management to stabilize your technolgoy in Contra Costa and Alameda County, including San Ramon, Danville and Pleasanton.
Managed Services from WebDispatch mean we will:
Spend the time necessary to fully know your business, your budget and exactly what you expect to yield to your IT Support Services requests, not what we think you should have.
Deal proactively with computer support in the prevention of potential down time and data loss disasters from occurring, instead of reacting to the fire.
Stand firm on every recommendation our IT Consulting team makes, by promising 100% customer satisfaction, guaranteed.

WebDispatch catches the technology problems that can create costly downtime before they affect your business. Assisting businesses in San Ramon, Danville, Pleasanton, Walnut Creek, Dublin and Alamo, we consult with you the find the most cost-effective IT Management and computer network maintenance to help you concentrate on business as usual.
No matter if your business needs computer network installation, network and server support, IT support management, computer repair and maintenance services, network consulting services, computer IT support and wireless network services, or remote & on-site support, we're there when you need us.
As experts in the technology industry, we can help you optimize your IT investment, reduce technology-related stress and bring your focus back to your core business. When you don't have to think about computer network maintenance and IT Support, you can concentrate on achieving your goals.
---
Areas Covered
We provide a wide range of strategic Network Services, Computer Support and IT Consulting to businesses in San Ramon, Danville, Pleasanton, Walnut Creek, Dublin, Alamo, Castro Valley, Contra Costa County, Alameda County, Concord, Oakland and San Leandro.
These local experts will even visit your business on-site: San Ramon, Danville, Pleasanton Computer Support, Contra Costa County Network Services, Alameda County IT Consulting, San Ramon, Danville, Pleasanton Backup and Disaster Recovery, Contra Costa County Information Technology Consulting, Alameda County Cabling and Office Moves, and San Ramon, Danville, Pleasanton Anti-Virus and Security.